Attention Customers:
At this time we are taking all precautions for the health and safety of employees and customers alike. Our technicians are following CDC safety recomendations by use of gloves, masks and practicing social distancing. Thank you for your continued loyalty.
George Strohm Inc. 
-
Myerstown, PA
Emergency Service is Available by calling 717-450-7613
Press 1 to connect to live operator.

Welcome residents of Myerstown, we are proud to offer you an excellent choice in HVAC and plumbing repair services. Whether you're suffering from a broken air conditioner or need to
fix a leaky faucet
, we're the team for the job. Our team of experts is located in Lebanon, Pennsylvania and is dedicated to providing you the best results. After years of hand on experience in business, we are guaranteed to provide you with 100% satisfaction. We established our business in 1954 and had been providing excellent repairs to Myerstown ever since. Choose our experts for fantastic service!
Have you noticed that your toilet is leaking or that water won't stop running? One of our technicians will visit your location and uncover the results immediately. Because we are a family owned and operated business, we take pride in knowing we offer honest and affordable repairs. Our second generation of plumbing and
HVAC
technicians know all about old and new systems to help you out.
Some important features that we inspect when providing air conditioning and
furnace repair services
include ventilation and ductwork. Your indoor air quality and humidity play important roles in your comfort level.
Cooling Services and Heater Repair near Myerstown, Pennsylvania 
We will provide you with new construction for ductwork as well as cleaning. Duct cleaning is essential for removing dirt, dust, and dander that can affect your respiration and allergies.
Other services that we offer include minor
plumbing repairs
. Whether you need drain cleaning, sink installations or washing machine assistance; we can help you.
These minor plumbing services can save you a lot of money down the road. Things you can bypass with routine plumbing include floods, floor damage, and other costly expenses from water leaks.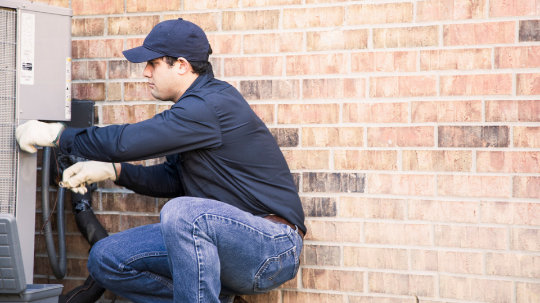 If you live in Myerstown, call us today at
(717) 450-7613
to learn more about our fantastic results. One of our friendly associates will be glad to assist you in your time of need and schedule your next HVAC or plumbing repair service.